I read a blog post today by Alyce of Blossom Heart Quilts in which she talked about this resource which will really come in handy when we're looking for solids to match the fabrics we're working with. It's called Palette Builder by Play Crafts and all you have to do is load an image of your fabrics and it will give you a list of matching Kona solids.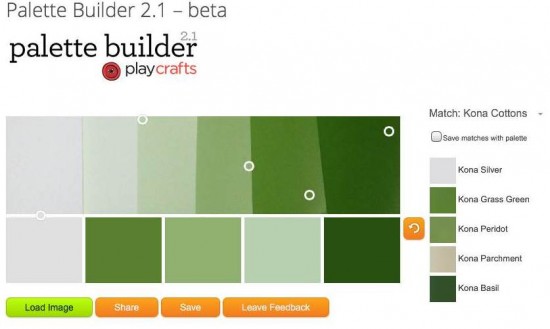 So I immediately had to try it out with a photo of my Star Light Star Bright quilt fabrics. It gave me this:
How cool is that?! I think it did a pretty good job of matching colors.
And speaking of my Star Light Star Bright quilt, I finally finished the first block ~ all in all, I'm pretty happy with how all my points and corners turned out!
Over the weekend, about 50-some of us from the Naples Quilters Guild took a bus trip to the Sewing & Quilting Expo in Lakeland, FL. It's the first time I've been ~ and, even though I really wasn't interested in some of the sewing, beading & embroidery vendors, there were a lot of quilt-related vendors and demos that I WAS interested in.
I've heard so much about Bloc Loc Rulers and I was able to see up close and personal how great they actually worked. They are a little pricey, but I figured if they save me some time (and aggravation!) they were totally worth it. (Besides, no shipping cost at the show = bonus!) I bought two ~ the 5-1/2" Half Square Triangle Ruler and the Strip Set Ruler (great for strip piecing). I've already tried out the HST ruler and it's quick, easy and fun to work with. :) (I'm putting the Flying Geese Ruler on my wish list ~ it also does square in a square blocks!)
That's it for my weekend ~ we've got a busy couple of weeks coming up, company coming on Thursday and a short trip out of town, so I'm heading for my pillow a little early.